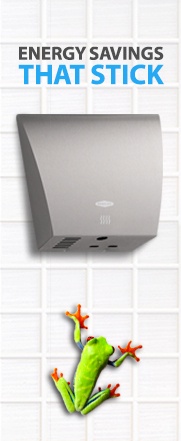 For unmatched energy savings, choose the lowest wattage jet dryer for sustainability and economy: Bobrick's new B-7125 InstaDry™ hand dryer.
Ideal for high-traffic environments, such as airports, stadiums and retail spaces, InstaDry supports the high-speed hand-drying experience that today's patrons expect, without the high operating costs typically associated with competitive units.
Product Benefits
•

Functions at a mere 200 Watts
•

7,500-hour life expectancy (or approximately 10 years in a high-traffic environment)
•
ADA compliant design, with less than 4" wall projection.

Distinctive design with curved Type-304 stainless steel cover and satin-finish vertical grain.

Facilitates dramatic cost-in-use savings through reduced energy costs. Estimated 10-year product lifetime.

Functions at a mere 200 watts and eliminates paper towel costs.

ADA-qualifying design with less than 4" wall projection.