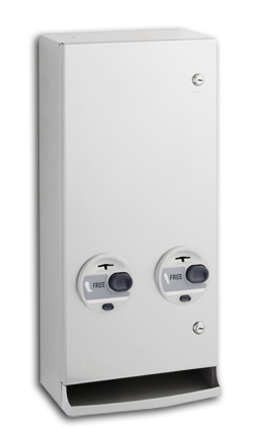 As expectations and laws evolve,
Bobrick's selection leads the way.
Bobrick is proud to offer an unmatched selection of feminine product vendors, including the only fully ADA compliant units on the market and a new range of token-vend options.
Field conversion kits for 25-cent, free- and token-vend options also are available. Bobrick's sanitary/napkin tampon vendors are also more durable than the competition while offering larger capacities to support economical operation.
Has your state or municipality adopted free vend legislation? Visit the Bobrick Academy.
Product Benefits:
ADA Complianc

e: Operates easily and intuitively with less than 5 lbs. force, without tight grasping, pinching or twisting of the wrist; recessed and semi-recessed models also satisfy the ADA 4" protruding objects requirement.
Streamlined Maintenance: Easy refilling of tampons or napkins; eliminates need to reach through door opening into cabinet; larger capacity; can accommodate 30 tampons; 20 napkins.
13 Models: Available in three mounting configurations across three design series to support design integrity and harmony.